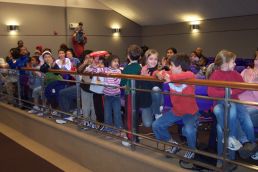 Still looking for something else?
You can find lots of other great performers on our Links page.
The Flying Aces library entertainment show may just be the best show available to liven up all of the summer reading programs, teen programs, or family programs that you offer at your library. Our library show can adapt to practically any theme, and itís as popular with the hard-to-please teenage crowd as it is with youngsters and adults. Our exhibitions of athletic skills, amazing feats, tricks and just plain silliness will add a healthy serving of fun to your event.
Worried that you donít have enough room in your library for a Frisbee demonstration? Our show can be scaled up or down to fit in almost any size space that you may have available.
The Flying Aces are experts in Frisbee golf, Frisbee dog acts, Ultimate Frisbee, snakeboards, hacky sacks or any subject related to alternative sports. In fact, the Flying Aces Pro Frisbee Team is the only full-time pro Frisbee demo squad in the world. You can't get much more unique than that!
Of course, The Flying Aces have gotten lots of comments and praise from the libraries where we have performed.
• Read two of our testimonials.
• See an episode of FYI featuring the Flying Aces.
Our shows can be set up indoors or outdoors, using any level area approximately 30'x20'.
All our shows are followed by a Disc contest with autographed Flying Aces Discs for the winners.
Interested in having The Flying Aces perform for you?
To check availability for your event, or to ask any other question, fill out the Information Request Form