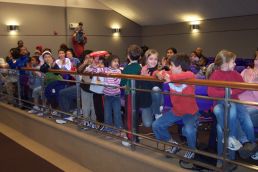 Our shows can be set up indoors or outdoors, using any level area approximately 30'x20'.
All our shows are followed by a Disc contest with autographed Flying Aces Discs for the winners.
Interested in having The Flying Aces perform for you?
To check availability for your event, or to ask any other question, fill out the Information Request Form
The Flying Aces with Ulysses the Wonder Dog was one of the best outdoor programs we've had. Brian Hayes and his wife Theresa arrived with Ulysses and quickly set up to put on a high-energy, educational show. Using a wireless sound system, Brian discussed the history of the Frisbee before demonstrating various moves, throws and catches. Then Ulysses joined in to show off his impressive repertoire of leaping catches, running to and fro across the lawn to the delight of the audience. As a conclusion, Brian selected several young members of the audience to compete in a Frisbee tossing contest for the prize of a signed, Flying Aces Flying Disc. The Flying Aces program was a wonderful event for all ages!
Sam K., Children's Librarian
Cheboygan Area Public Library

Dear Brian,
You guys are TREMENDOUS!!!!!
We loved hosting you! We'll definitely have you back — and if you ever need an enthusiastic recommendation, you know you can call on me.
Claire O.,
Willard Library, Battle Creek