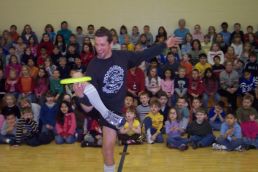 Still looking for something else?
You can find lots of other great performers on our Links page.
The Flying Aces
School Assembly Show is an exceptionally entertaining program that's chock-full of great messages and audience participation. The show is jam-packed with visually exciting and absolutely amazing athletic feats and tricks that border on the incredible.
Our messages focus on the connection between math, physics and sports, the importance of physical fitness, how to use exercise to diffuse anger and how a good practice ethic leads to improvement. We emphasize staying away from tobacco, alcohol and drugs, and we close with an audience participation contest that shows how good teamwork can lead to success.
Another unique aspect of The Flying Aces show is that it appeals to all age groups. Kindergartens, high schools and everyone in between all love The Flying Aces. To keep the fun going, we also hand out rules and information about Frisbee golf and other Frisbee games and activities to your physical education instructors. The show is also adaptable to PTO events, field days, mother-daughter and father-son events, ice cream socials, fundraisers, or any other venue looking for world-class entertainment at an affordable price.
Our shows can be set up indoors or outdoors, using any level area approximately 30'x20'.
All our shows are followed by a Disc contest with autographed Flying Aces Discs for the winners.
Interested in having The Flying Aces perform for you?
To check availability for your event, or to ask any other question, fill out the Information Request Form