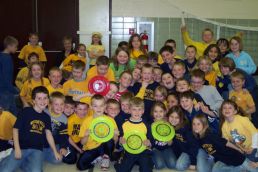 Still looking for something else?
You can find lots of other great performers on our Links page.
After thousands of school assembly shows, more and more schools have suggested that we put together a clinic for students who have seen our show and want to learn more. So we did! We can instruct as many as 90 students in a 1-hour clinic. We divide the students into three 20-minute sessions with up to 15 pairs of students per session. Twenty-five discs for the school to keep are included in the price of the clinic.
Our shows can be set up indoors or outdoors, using any level area approximately 30'x20'.
All our shows are followed by a Disc contest with autographed Flying Aces Discs for the winners.
Interested in having The Flying Aces perform for you?
To check availability for your event, or to ask any other question, fill out the Information Request Form