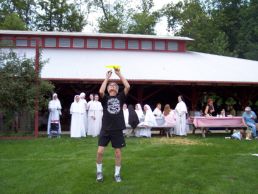 Still looking for something else?
You can find lots of other great performers on our Links page.
The Flying Aces Pro Frisbee Team
offers world-class athletic entertainment for your company picnic, party, trade show, luncheon or any other business event looking for high class, affordable entertainment.
Fun and fast-paced, athletic and interactive, the feats, tricks and stunts of The Flying Aces can be adapted to just about any theme or situation.
Reliable, self contained, and easy to work with, The Flying Aces can present traditional shows or roaming mini shows, clinics and contests.
Our shows can be set up indoors or outdoors, using any level area approximately 30'x20'.
All our shows are followed by a Disc contest with autographed Flying Aces Discs for the winners.
Interested in having The Flying Aces perform for you?
To check availability for your event, or to ask any other question, fill out the Information Request Form